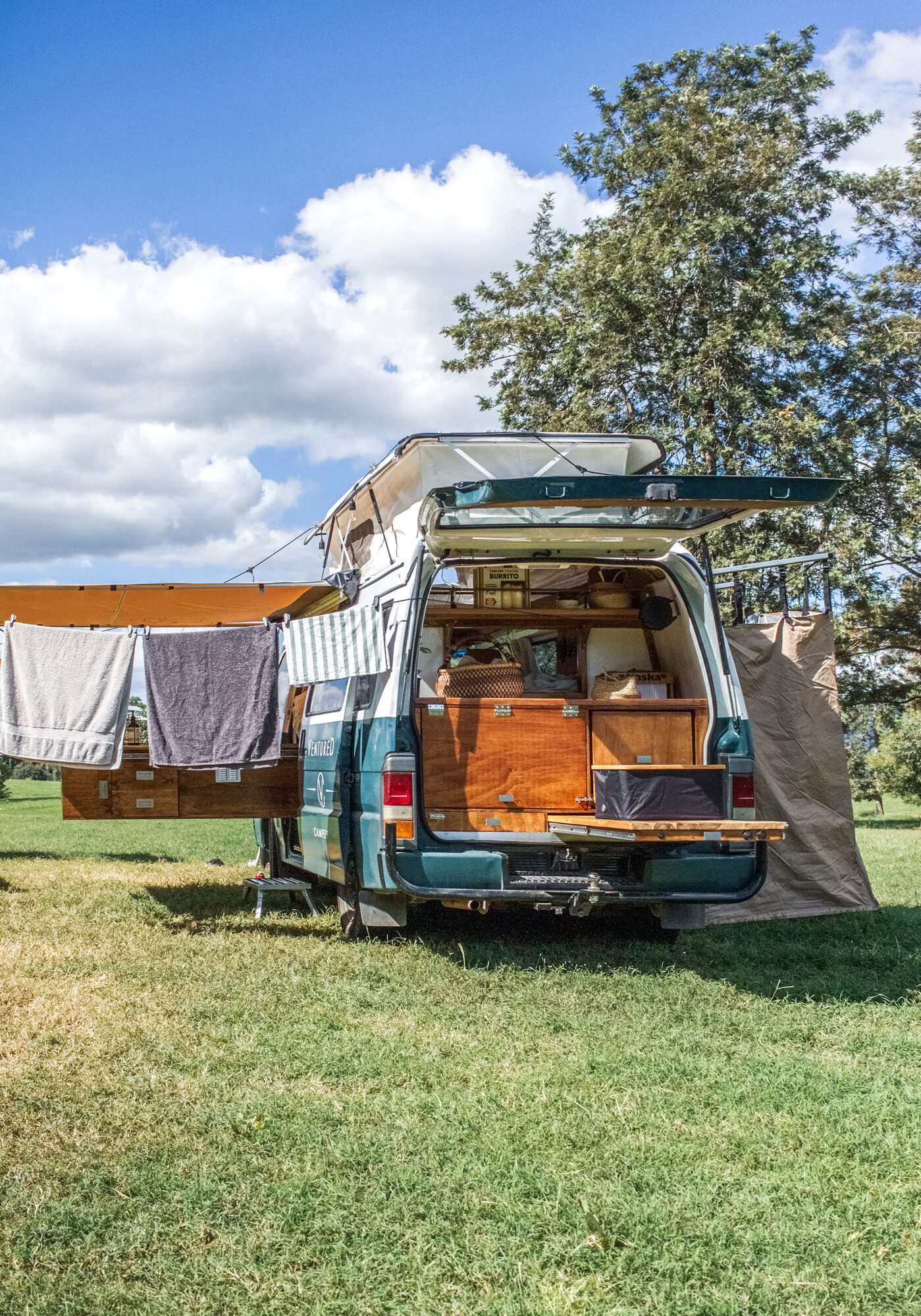 3 Easy solutions for your laundry while camping
Travelling on the road for long periods of time means the washing piles up! With such good weather in Australia, we feel it is often a shame to use the dryers at a campsite or laundromat when the sun is shining down and the fresh air is ready to do the job for us. Letting your clothes dry naturally on the line is also better for your wallet, better for the environment and overtime will lessen the wear and tear on your wardrobe!
This is where Hills comes in. They've changed the game with portable clotheslines and retracting clotheslines that will revolutionise your laundry when you're on the road.
Hills Single Retractable Clothesline
Great on Space!
The Hills Single Retractable Clothesline is a highly flexible and space saving drying solution suitable for any camping set up, small outdoor spaces, garages and balconies. It is super lightweight and compact, meaning it is perfect for adventurers on the road who are travelling light or those who live in small spaces and don't have ample storage space to spare.
Built for the tough Aussie Outdoors!
The Retractable Clothesline is easy to handle and made out of UV resistant material so you can rest assured it won't weaken in the harsh Aussie conditions. Its robust 15m line can reliably hold up to 10kg and the unique loop system to double the line means you can conveniently put on a decent load of washing. Best of all, the Retractable Clothesline has a lifetime warranty so you know it's built to last.
Versatile and Dynamic!
The Swivel bracket enables the line to exit at any angle up to 180 degrees for installation flexibility so it can be set up in even the most unconventional spaces. It can be mounted onto any surface that 2 screws can be fastened into and its unique design means the clothesline will never get tangled or jammed. We installed the clothesline to our campervan side pillar however it could alternatively be installed externally onto a camper trailer or caravan using stainless steel screws. We wrapped the clothesline around our awning but you can be as creative as you like and a nearby tree will do!
We used the Hills Premium Clothes Pegs which are rust resistant and feature a soft moulded grip handle and paired our clothesline with the Hills Bamboo Basket which collapses down for easy storage in the campervan.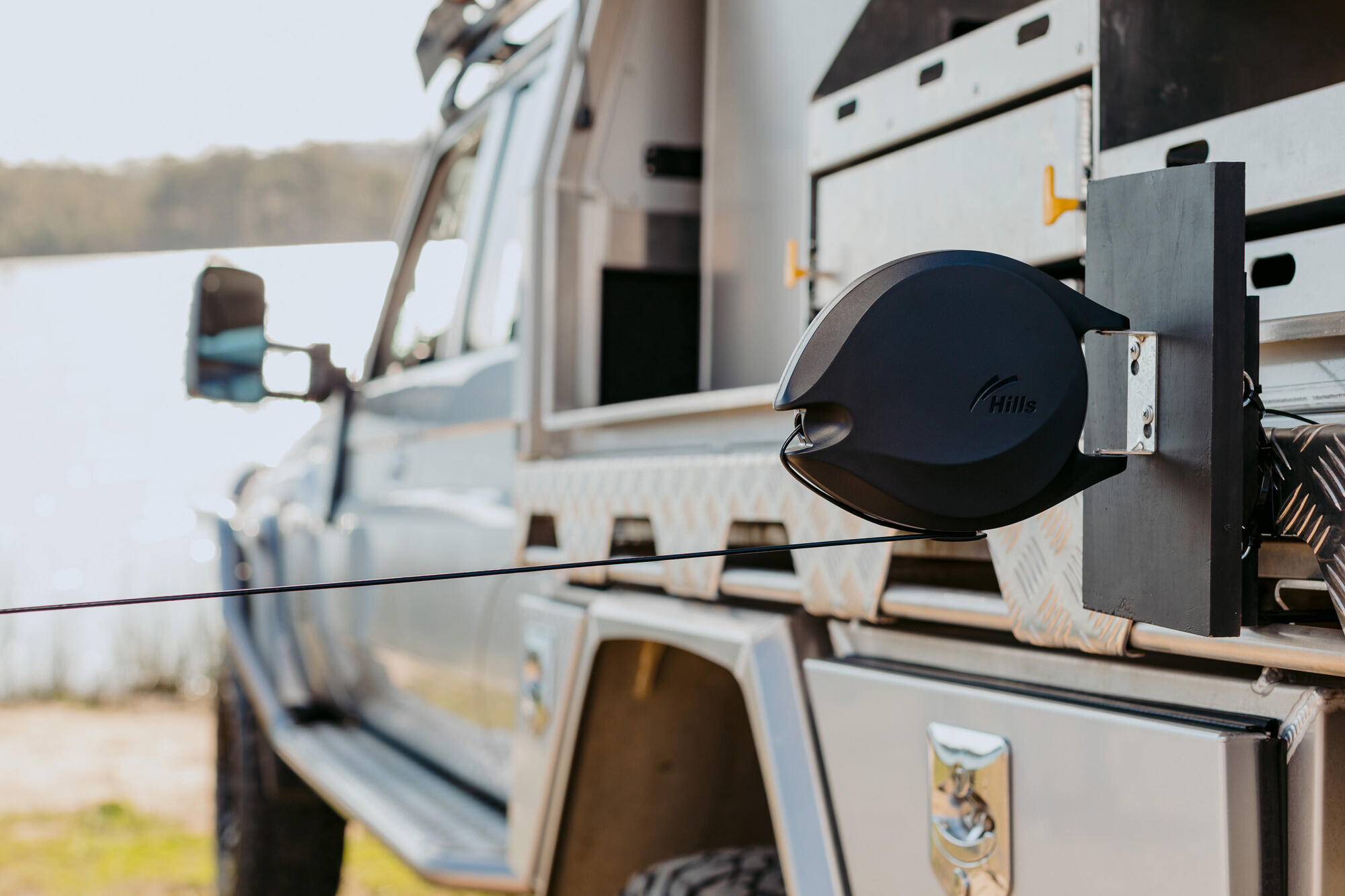 Hills Double Retractable Clothesline
Featuring all the benefits of the Hills Single Retractable Clothesline, the Double Retractable Clothesline comes with two separate spools with an extended clothesline length of 30m. Although slightly chunkier than the Single Retractable Clothesline, its extra line capacity means it can hang a 20kg load and is perfect for larger families with more washing.
Hills Portable Clothesline
Need something with a little more oomph? A Portable Clothesline just might be the ticket. Think of it like a super-sturdy airer, with the weight and construction material to withstand the elements. These clotheslines have four adjustable height levels, but also fold flat for easy storage. For extra security, make the most of the camping peg slots on the feet. It holds a mammoth 30kg load capacity and is the premium option between conventional outdoor clotheslines and indoor clothes airers, making it perfect for trips away.